Currently the Blue Ridge chapter is the only chapter of Wild Ones in the Mid-Atlantic! Starting in June 2016, we are meeting in various locations to accommodate our membership. We usually meet on the second Tuesday of each month at 10:30am. Guests are welcome.
Wild Ones members help and learn from each other – beginners and experienced members alike – about identifying native and invasive plants, adding native plants to existing landscapes, protecting threatened species, creating habitat for pollinators, and a lot more. You see, the native birds, bugs & wildlife can't eat & live off of plants from exotic areas – they need native plants.
We think that a home landscape can be more interesting than a lawnmower slowly circling every weekend and want to learn about restoration of more natural landscapes at our homes. We also hope to influence others to consider natural landscapes at public buildings and commercial properties. If you use a lawn service or put chemicals on your lawn to make it more appealing, consider the damage these chemicals can do over time to your health, your children's and pet's health.
Members plan monthly educational chapter meetings, field trips, presentations by experts in the field of native plants and natural landscaping. Chapters are supported by the national organization and each member receives handbooks related to natural landscaping along with a quarterly publication, the Wild Ones Journal.
Active participation by members is encouraged and ideas for group projects are welcome.
---
Our Board Members: President-Dixie Mullineaux, VP-Joyce Morningstar, Secretary-Donna Stekli, Treasurer-Barbara Kuennecke, Board-Hope Redmond.
Email: gardener@astarz.com
---
OUR NEXT EVENT IS:
April 9, 2019 Tuesday at 10:30 am
Blue Ridge Wild Ones EVENT
We will have speakers talking about Hummingbirds and Native plants. We will also be showing movie clips on Butterflies, focusing on those in our area.
This, just in time for you to think about what to plant this spring !
C'mon & join us!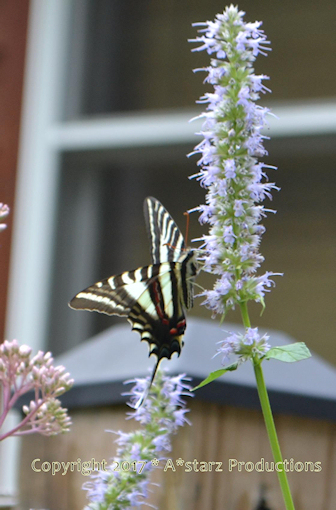 LOCATION: Cacapon State Park, Nature Center, Berkeley Springs, WV
Light snacks & drink will be available courtesy of our members.
Regards, Donna Stekli, Blue Ridge Wild Ones Secretary
gardener@astarz.com
We are on Facebook: https://www.facebook.com/BRwildones/
Wild Ones Blue Ridge Chapter
---
OUR LAST EVENT WAS:
March 12, 2019 Tuesday at 10:30am
Blue Ridge
Wild Ones EVENT
Viewing of the DVD "The Meadow Project" by Catherine Zimmerman AND Sowing Native Seeds by Joyce Morningstar
Bringing Meadowscaping to Big and Small spaces How to create/start a meadow & how to maintain it. Informative & practical.
This was held at the Cacapon State Park Nature Center in Berkeley Springs WV.
A great time was had by all.